Just Fellow Bears, But With Athletic Talent: Part 2
Last night, I went to the gym to play some pick-up basketball with a few friends.
To my surprise, I ended up playing against players on Cal's sports teams. It's happened before, but this time was a nice highlight during dead week before finals.
In one game, I played against Richard Solomon, an up-and-coming power forward on the Cal basketball team. Haha I'd like to think I intimidated him into missing a dunk. But really, I was pretty damn scared when he came soaring in.
A little later, I played a game against a team of Cal football players, including star wide receiver Keenan Allen, potential starting quarterback Zach Maynard, receiver Kaelin Clay,  and defensive backs Avery Walls and Isaac Lapite.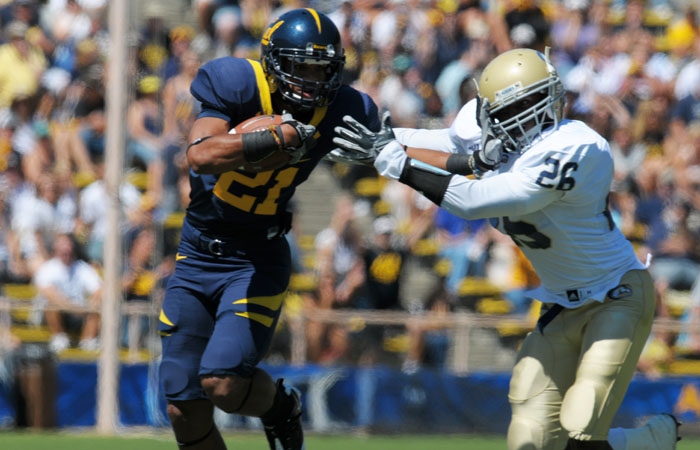 It was a little unreal to see Keenan, a star on the football field, across from me on the basketball court. He posted one of the top seasons by a true freshman wide receiver in school history last season, setting a Cal single-season school record for receptions by a with 46 catches for 490 yards, surpassing current Philadelphia Eagles player DeSean Jackson's previous record of 38. I remember going crazy while cheering him on in his first college game ever, when he made a memorable debut in the season opener against UC Davis by catching four passes for  120 yards and scoring two touchdowns.
But all of these guys were straight-up athletes. Football field or basketball court, they could play. I'm convinced any of them could have played on the Cal basketball team if they chose that over football. They could run, jump, and shoot with anyone. Pretty insane.
So I was pretty excited when I held my own against them. I made a couple buckets in our game, one over Avery and another after pump-faking the heck out of Kaelin.
As college students, it's easy to forget that the athletes we cheer for on the field aren't that different from us. But off the field, they're pretty much the same: taking classes, hanging out on campus, and playing pick-up basketball games with friends.