Inspiration: Teaching It Forward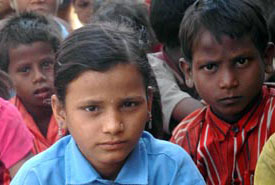 In one of India's poorest states, 12-year-old girl Bharti Kumari is teaching it forward.
Before and after school each day, she shares the knowledge she receives at school with 50 kids in her village who don't have the same opportunity to go to school. These children stay home due to the need to help their parents earn a living.
Furthermore, Maoist insurgents have crippled the education infrastructure, destroying many of the schools nearby Bharti's village.
Every morning and evening, Bharti offers English,  Hindi, and math lessons to the neighborhood's young children. "I have a long day. My school is from 10am to 3pm and I study late," she says. "This is what I love doing. I enjoy teaching children their ABCs as well as the Hindi alphabets."
Currently, over 10 million school-age children in India do not regularly attend school. But better opportunities to learn are on there way. Last April, the Indian government pledged £3.6 billion with the Right of Children to Free and Compulsory Education Act, guaranteeing free schooling to all Indian children ages 6-14.
Bharti has already decided on her future career. "I definitely want to become a teacher when I grow up."
(Photo by Nicola Smith/ The Sunday Times)